Health
The so-called wellness market could prove to be CES' most vibrant sector this year.
One recent forecast suggested the world's annual healthcare spend will be nearly $9tn by the end of the decade. Both the big brands and start-ups believe there's an opportunity to disrupt a sector currently dominated by specialists.
Doubtless, not all the claims being made at CES will stand up to scrutiny, but it's heartening to see new tech trying to do something truly useful.
For example, Israel's ICI Vision is in town to promote a pair of prototype glasses designed to tackle blind spots caused by retinal diseases.
It is trying to combine small cameras, eye-tracking software and projection tech to direct views onto the healthy parts of the back of a patient's eye.
Samsung is taking a different approach to visual impairments with Relumino – glasses that use a smartphone to process the wearer's view.
An app adds contrast, draws outlines and makes other colour changes to the view to make it clearer before floating the altered image into the eyewear's display.
Several firms are seeking to treat undesired behaviour via vibration-based "haptic" feedback.
They include Keen – a smart bracelet that buzzes if it detects the wearer pulling their hair or picking their skin – and Snore Circle – an eye-mask that vibrates at different levels of intensity to nudge the owner into a different position if they make noises at night.
New parents also appear to be a favoured target for the latest health tech.
Stand-out launches include Me.Mum, a smartphone camera attachment whose maker claims it can detect mould-like particles in a woman's saliva that signal when she is at her most fertile.
China's Tuoxiao will be demoing a smart stethoscope designed for use with infants that sends heart and lung readings to the cloud for analysis to determine if pneumonia might be present.
Meanwhile, two European start-ups are seeking to help women strengthen their pelvic floor muscles to combat bladder leaks caused by childbirth.
Fizimed's solution involves exercising with a force-sensing silicone device that provides feedback via an app.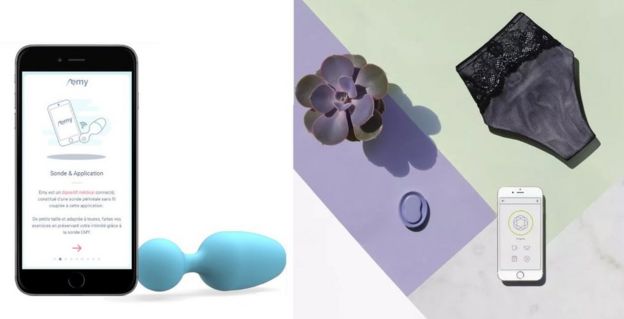 http://lifescience-bw.de/wp-content/uploads/2018/02/179x157.png
0
0
Markus Bühler
http://lifescience-bw.de/wp-content/uploads/2018/02/179x157.png
Markus Bühler
2018-01-06 06:26:12
2019-05-23 06:30:19
CES 2018: Tech preview of the show's coolest new products - Fizimed